Widex Moment BTE Rechargeable Hearing Aid
The New Widex Moment BTE Rechargeable is one of a few rechargeable BTE's available.
Rechargeable hearing aid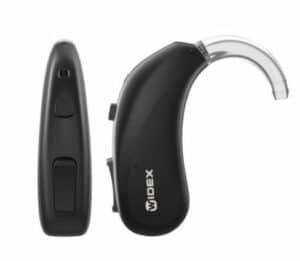 The Widex Moment BTE hearing aid battery will last for up to 37 without streaming and around 24 hours with 8 hours of streaming.
The rechargeable Widex Moment BTE R D hearing aid will stream sound from most Apple and newer Android devices.
The Widex Moment BTE R D can be fitted with a standard ear hook and tubing or thin tubing. Your hearing loss will determine whether the wearer is suitable for the more discrete thin tubing.
The new Widex Moment BTE R D includes PurSound and Tru Acoustics Tecnology.
Amazing quality sound
Widex Moment PureSound technology reduces the time it takes for a hearing aid to process sound. Hearing-aid wearers often report a tinny or distorted sound when listening through their aids. This is due to the time difference between a direct sound signal hitting the ear drum and the processed sound from the hearing aid. Widex Moment PureSound has zero processing delay. Widex research concludes the benefits of zero processing delay is a natural and distortion free sound.
Widex TruAcoustics is new technology that ensures the hearing aid produces the correct amount of gain at the eardrum. For the hearing aid user, TruAcoustics technology results in an accurate fitting prescription, a natural sound and improved speech recognition.
The Widex Moment BTE hearing aid is available in 4 technology levels, 110, 220, 330 and the top of the range 440.
Prices for the Widex Moment start from £845.75, please click here for full pricing.
Unsure which level of service you need? Click here to understand our pricing and service options.
If you are looking for a rechargeable BTE you may also want to consider the Phonak Naida Paradise Or the Starkey Livio AI BTE 
About Sound Hearing
soundhearing.org is a company that works within and around the M25.
Our purpose is to provide high quality, transparent and affordable hearing care.
Our website outlines every product available on the market from the main hearing aid manufacturers. We provide detailed descriptions of each hearing aid and its features allowing you to compare hearing aids from each range.
Unlike many high street providers, we are not owned (partially or wholly) by a particular manufacturer, which is why we can offer you the choice of hundreds of hearing aids.
To help you make the right choice, feel free to contact us for advice and to answer any questions you may have.  An audiologist can also carry out a hearing test at home, free of charge, in order to assess your hearing and listening needs.
Please feel free to get in touch to discuss the your hearing needs and find the right hearing aids for you, including the new Widex Moment BTE rechargeable hearing aid.