Description
Starkey Evolv AI
Founded in 1967, Starkey is America's largest hearing aid manufacturer. Starkey have a worldwide presence and, in the UK, their factory is based in Stockport. Starkey have established a Hearing Foundation where their volunteers have fitted over 1 million hearing aids to those in need across the globe.
Starkey Evolv AI – Key functions
Edge mode available in the top 3 technology levels
Fall alert available in all models
40% more noise reduction than previous model
2 way audio with Apple iOS
New wireless CIC and a non wireless IIC
The Starkey Evolv AI was released in the UK 2022 and is the succeeds the Livio AI range of hearing aids.
Starkey has released Evolv in 4 technology levels: Premium 2400, Advanced 2000, Select 1600 and Basic 1200. Click the compare tab or see table below which features are available in each model.
You may find Starkey Evolv AI rebranded as Audibel ARC AI, Audibel Via Edge AI or Audibel Via AI

Evolv comes in the models:
Evolv AI IIC non wireless 10
Evolv AI CIC non wireless 10
Evolv AI CIC wireless 10
Evolv AI ITC Rechargeable
Evolv AI ITE Rechargeable
Evolv AI RIC Rechargeable
Evolv AI Micro RIC 312
Evolv AI RIC 312
Evolv AI BTE Rechargeable
Evolv AI BTE 13
Evolv AI BTE Power Plus 13

Starkey Evolv AI – Hearing Aid Programmes
Evolv RIC and BTE's are available in colours; Bright white with Sterling, Black, Slate, Sterling, Espresso, Bronze and Champagne.
The Evolv platform integrates Hearing Performance, Healthable technology, Information Assistance. It is estimated Evolv is able to make up to 55 million automictic adjustments and hour ensuring the best possible hearing in challenging listening environments.
Hearing Reality Pro analyses and understands the listening environment and then uses binaural signal processing and adaptive microphone directionality to adjust the hearing aids. This gives the best possible hearing in any listening environment.
Starkey Evol AI Edge mode is now available in the top three technology levels. When activated Edge Mode uses artificial intelligence to scan the listening environment and make real-time adjustments to maximise speech understanding.
The hearing aids have a dedicated adjustable music compressor allowing for an enhanced and enjoyable music listening experience.
Starkey Evolv AI can use voice activated commands. This means you can change the programme of the hearing aid by simply speaking.
The updated Thrive AI App introduces Thrive Care which allows carers and family members to monitor and the users hearing aid use and health. Thrive care includes fall alert and brain and body tracking. The Thrive app also allows users to fine tune their hearing aids and is the gateway for Telehealth – remote hearing care.
Starkey Evolv AI includes a rechargeable custom in the ear (ITC, ITE) hearing aid. These wireless devices  allow for audio streaming from mobiles. The battery will last a full day with up to 4 hours of streaming. The built-in motion sensors allow the device to automatically turn off when taken off and they will automatically turn where placed back in the ears.
The Starkey Livio has made for iPhone (Mfi) technology and will also pair and stream to phones running the newest Android software.
The Starkey Livio rechargeable charger has a built-in battery so you can charge on the go. A turbo charger with an integrated battery is also available.
Starkey Evolv AI – Comparison Table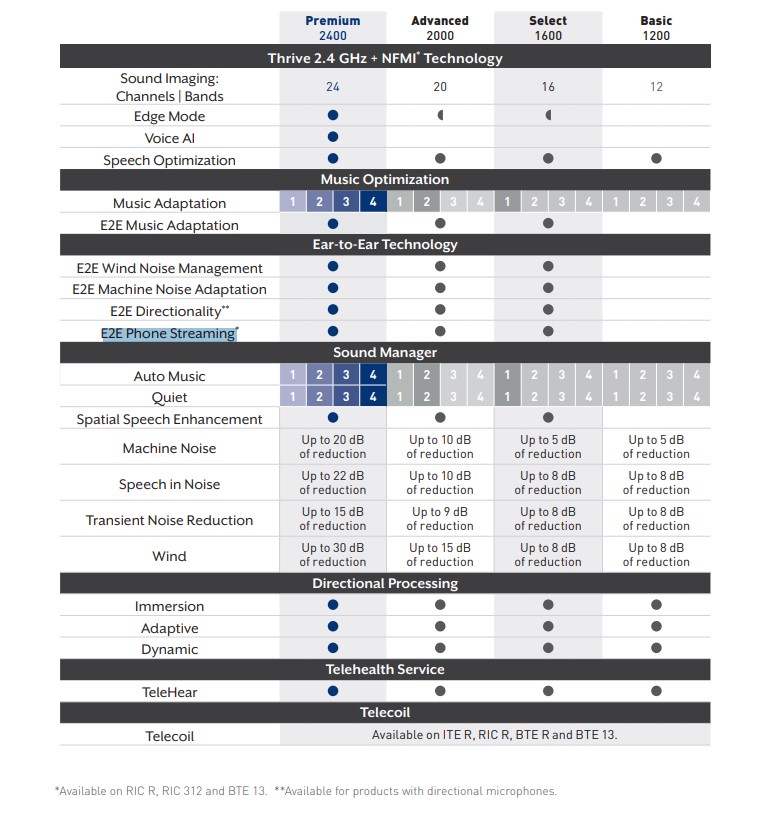 Starkey Evolv – Accessories
A number of accessories are also available with Starkey Evolv:
Starkey TV Streamer – Plugs into your TV and will stream stereo sound direct to your hearing aids.
Remote Microphone allows users to enjoy one-on-one conversations in noisy environments and easily stream binaurally from four different audio sources: Bluetooth, Telecoil, FM or Line-In.
Mini Remote Microphone – Allows users to enjoy one-on-one conversations in noisy environments with the small, easy-to-use Mini Remote Microphone.
Starkey Remote – A pocket sized remote control allowing the user to change hearing aid volume or programmes.
Table Microphone – This device improves users hearing in group settings like family gatherings or noisy restaurants. Eight built-in microphones detect the primary speaker'voice and stream it directly to their hearing aids.
Starkey new hearing aids will pair via Bluetooth to Orcam. Orcam is a device that is used by users who visually impaired. It uses facial recognition allowing the user knows who is talking. Orcam is also able to read and turn text into audio which is then processed and delivered to the hearing aids.
Why Choose Sound Hearing?
Soundhearing.org is an audiology company that works in London, within and around the M25.
Our purpose is to provide high quality, transparent and affordable hearing care.
Through detailed descriptions of each hearing aid and its features, our website outlines every product available on the market from the main hearing aid manufacturers. This allows you to compare hearing aids from each range.
Unlike many high street providers, we are not owned (partially or wholly) by a particular manufacturer, which is why we can offer you the choice of hundreds of hearing aids.
To help you make the right choice, feel free to contact us for advice and to answer any questions you may have. An audiologist can also come to your home, free of charge, in order to assess your hearing and your listening needs.