The new Phonak Paradise Audeo range was released in August 2020.
About Phonak Paradise Audeo
Phonak Paradise superceeds Phonak Marvel. At present only a RIC [Receiver in the Canal] version has been released. Prices and additional information can be found by clicking here
Phonak – Manufacturer – Swiss based, part of the Sonova Group.
Paradise – New model name.
Audeo –  Style of aid – RIC (Reciever in the canal)  – click here for hearing aids styles 
Phonak Paradise uses a new chip, PRISM (Processing Real-time Intelligent Sound Management) and includes motion sensors.
The new PRISM chip runs the new AutoSense 4.0 software. AutoSense constantly scans the listening environment and fine tunes the audio with up to 200 adjustments for an optimised listening experience.
Phonak Paradise  progresses on from the successful Marvel hearing aid and provides new features for hearing improvement and Bluetooth connectivity.
Hearing Aid Motion Sensors
The new motion sensors will detect when the user is stationary or in motion and then automatically adjusts the microphones and the dynamic noise reduction system to maximise speech intelligibility.
Better One-to-One Conversations
New Speech Enhancer is designed to enhance one-on-one conversations when people maybe speaking softly by providing more gain on the soft input speech signals.
Improved Hearing Aid Performance in Loud Environments
The new Dynamic Noise Cancellation system employs a directional beamformer when users are trying to understand speech in a loud environment. The new system works in combination with Phonak's adaptive beamformer as well as the motion sensor.
Answer Calls with a 'Tap' to your Hearing Aid
Phonak have introduced a new Tap feature to Paradise Hearing Aids. By simply tapping the hearing aids you are able to answer calls, pause or resume streaming or activate your virtual assistant (e.g. Siri).
Additional Functionality in Phonak Paradise
Phonak have improved the Bluetooth protocol for Paradise which enables Paradise devices to be paired to up to eight Bluetooth devices and be connected to two simultaneously.
Audeo Paradise also allows for true hands-free use of a mobile (Apple and Android), keep your phone in your pocket and answer your phone call by pressing a button on the hearing aid.
Phonak Paradise Audeo has been released in four models: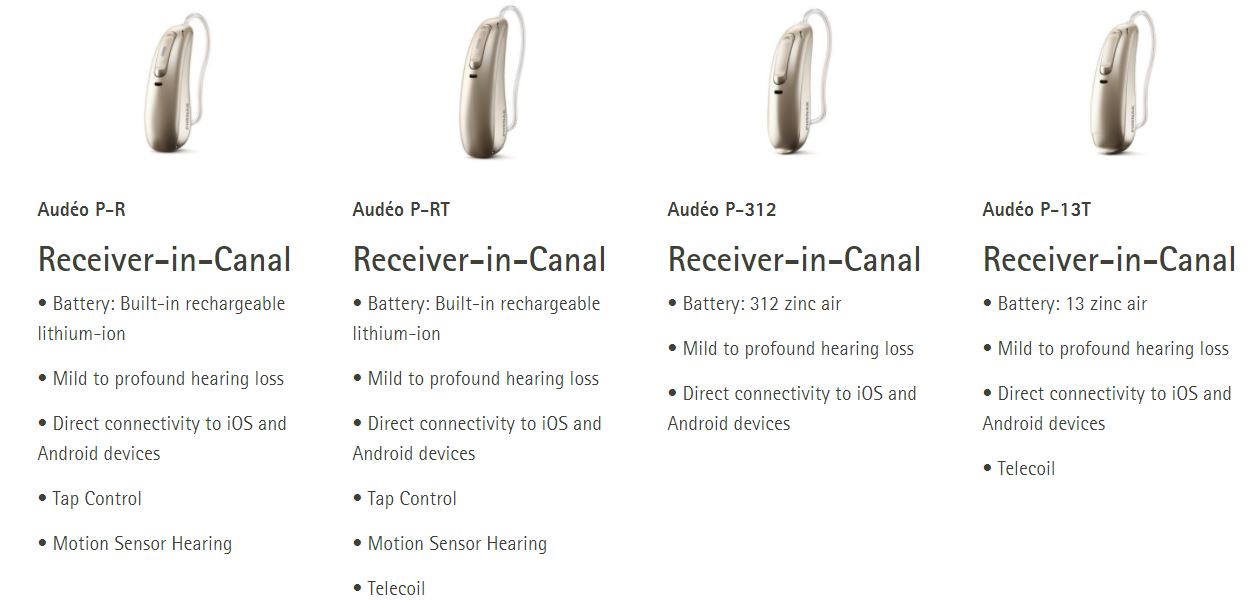 The two rechargeable models one with telecoil and one without are designed to last a full day of use  with up to 8 hours of streaming. Paradise hearing aids come as standard with the Mini Charger. The  Power Pack and Charging Case can be purchased separately.

Phonak Paradise hearing aids will pair from smart mobile devices. The Phonak App allows the user to make numerous adjustments to the hearing aids. Find a combination of settings you like and the app allows you to save the settings as an additional programme.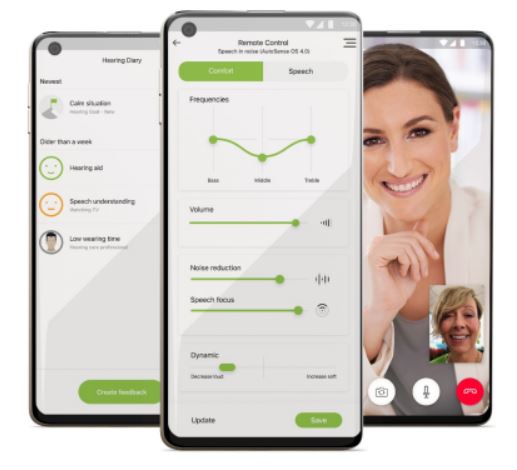 Phonak Paradise Audeo Accessories
Phonak TV Connector
This device allows you to stream directly from your TV/Stereo into your hearing aids.
Phonak PartnerMic
Discreet and easy-to-use remote microphone when you need a little boost in one-to-one conversations
Phonak RemoteControl
A pocket sized remote control that allows you to change volume and programmes.
Roger Direct Compatible
Roger Direct Technology is built in Paradise. This means Paradise hearing aids can communicate directly with Roger's suite of wireless microphones. Roger Microphones bridge the gap in hearing ability when in background noise present and where there is distance from speaker (more than 2m).
Phonak Paradise Audeo has been released in 4 models, P30, P50, P70 and the P90 which is the top of the range version. For more information and prices please click here
Why Choose Sound Hearing?
soundhearing.org is a company that works in Greater London and in parts of Essex and Kent.
Our purpose is to provide high quality, transparent and affordable hearing care.
Our website outlines every product available on the market from the main hearing aid manufacturers. We provide detailed descriptions of each hearing aid and its features allowing you to compare hearing aids from each range.
Unlike many high street providers, we are not owned (partially or wholly) by a particular manufacturer, which is why we can offer you the choice of hundreds of hearing aids.
To help you make the right choice, feel free to contact us for advice and to answer any questions you may have.  An audiologist can also come to your home free of charge in order to assess your hearing and your listening needs.
Pop us an email for more information: info@soundhearing.org