Description
Includes 5-year Warranty
Oticon is the largest hearing aid manufacturer based in Denmark. Oticon is part of the William Dermont Group which includes hearing aid manufacturer Bernafon.
The Oticon Opn S range of hearing runs on the Velox S Platform. The OpenSound Navigator operating system is capable of scanning the sound landscape 56,000 times a second. As it analyses all this information, the OpenSound Navigator then processes speech from all directions while ignoring any unwanted noise signal. The result being that the user can locate and choose to focus on speech from any direction. By contrast, traditional hearing aids try and focus only on speech coming from in front of the user and supress all sound from the sides and behind (directionality).
By opening up the world to the user by allowing 360- hearing, Oticon' research concludes that by giving the brain more information to perform, the listening experience is enhanced, listening effort is reduced and speech understanding is improved. Oticon call this Brain Hearing.
The Open Sound Optimiser is a new feedback management feature that removes feedback (whistling) before if occurs allowing the hearing aid to provide more gain and speech audibility.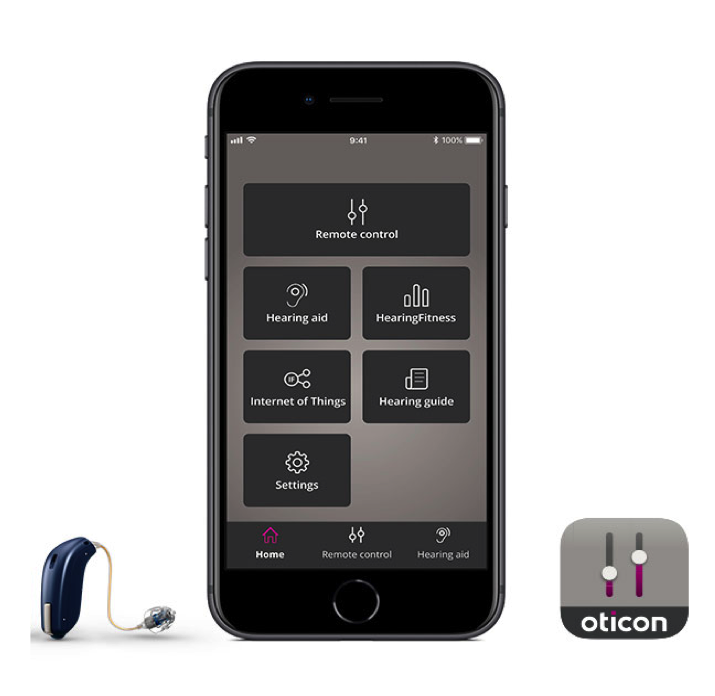 The Oticon On App allows the user to control and adjust their Oticon hearing aids.
The App also allows the user to connect their hearing aids to other devices using the (IFTTT) protocol. For example, a user could get a notification in their hearing aids when the doorbell rings or a text message could be sent to carer when the user turns on their hearing aids.
Oticon has made for iPhone (MFi) technology built in, meaning you can take calls or stream music direct from an iPhone. For Android and other Bluetooth devices, an Oticon Connect Clip is required.
Oticon Opn S has 3 technology levels in the range Opn S 1, S 2 and S 3. A comparison of the product features can be found by clicking the compare tab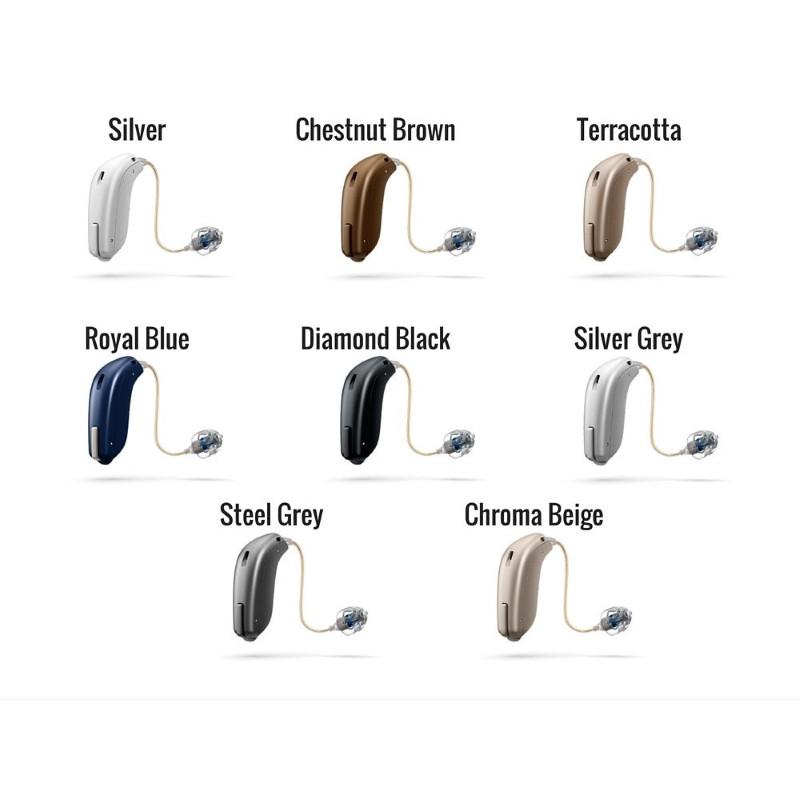 Oticon OPNs hearing aids are available in colours; silver, chestnut brown, terracotta, royal blue, diamond black, silver grey, steel grey and chroma beige.
Oticon Opn S  is available in 4 models, 3 RIC style and one BTE:
Oticon Opn S MiniRite – (RIC) This discrete device runs with a 312 battery. The device has a multi-function button that can be used for volume control, programme change and a mute. For volume you need a pair of hearing aids, the right aid button will increase volume the left hearing aid button will decrease. The hearing aid can be configured to treat mild to severe hearing losses.
Oticon Opn S MiniRite T – (RIC) Incorporating a telecoil and slightly larger multi-function button that for programme change, mute and also allows the user to increase and decrease volume from one hearing aid. It uses a 312 battery and can treat mild to severe hearing losses.
Oticon Opn S MiniRite R – (RIC) A rechargeable hearing aid using a lithium ion battery. The Oticon charger uses contact free induction to charge the hearing aids. The device includes a telecoil and multifunction button for volume, programme change and mute. It can be configurated for mild to severe hearing losses.
Oticon Opn S BTE PP – For moderate to severe hearing losses this device uses a size 13 battery has a telecoil and a multifunction button for volume, programme change and mute.
A number of accessories are available with Oticon OPN S hearing aids:
Oticon Connect Clip – Will pair with most Bluetooth enabled devices and allows for direct streaming from mobile phones, tablets and PCs. You can also listen to people from a distance with its built-in remote microphone.
TV Adaptor 3.0 – Plugs into your TV and will stream stereo sound direct to your hearing aids.
Remote Control 3.0 – Simple remote to change hearing aid volume or program.
Sennheiser BTD800 Bluetooth dongle – Plugs into a USB port (PC) and will allow a wireless audio link to the Connect Clip.
Why Choose Sound Hearing?
Soundhearing.org is a company that works in Greater London and in parts of Essex and Kent.
Our purpose is to provide high quality, transparent and affordable hearing care.
Our website outlines every product available on the market from the main hearing aid manufacturers. We provide detailed descriptions of each hearing aid and its features allowing you to compare hearing aids from each range.
Unlike many high street providers, we are not owned (partially or wholly) by a particular manufacturer, which is why we can offer you the choice of hundreds of hearing aids.
To help you make the right choice, feel free to contact us for advice and to answer any questions you may have.  An audiologist can also come to your home free of charge in order to assess your hearing and your listening needs.