Description
Widex is a family-owned Danish company that has been making hearing aids since 1956. Its hearing aids are sold in over 100 countries and employs over 4000 people.
Widex Evoke has now been superseded by Widex Moment
The Widex EVOKE™ Fusion 2 is a Made-for-iPhone, receiver-in-the-canal (RIC) hearing aid that comes in four performance levels – 110, 220, 330 and the top of the range 440.
The new Widex Evoke range is designed to keep learning and improving from the users own experiences and from those of other users around the world. Widex describe their new E-Platform as the first hearing aid solution that allows machine learning. The Evoke App collects information on the users  preferences and anonymous data from other users and then suggests new settings.
The new Fluid Sound Analyser accurately analyses the environment and reliably selects the correct listening environment allowing the new Fluid Sound Controller to adjusts settings for optimal hearing.
Mfi (made for iPhone) technology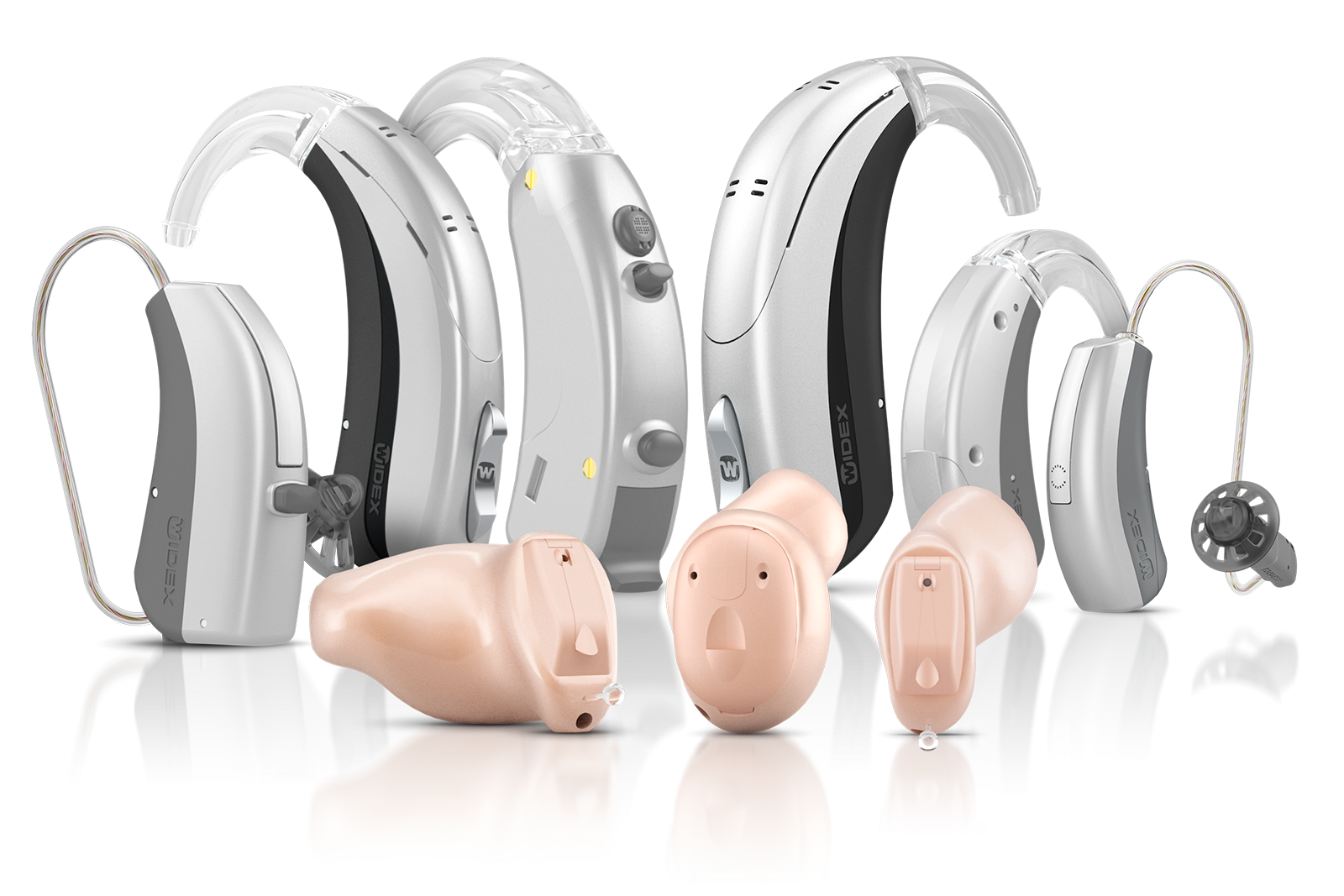 Widex Evoke comes in a number of models and styles:
Widex Evoke RIC 10
Widex Evoke Fusion 2 RIC 312
Widex Evoke BTE 13 D
Widex Evoke Fashion Mini
Widex Evoke Fashion
Widex Evoke Fashion Power
Widex Evoke CIC Micro – IIC
Widex Evoke CIC
Widex Evoke XP – ITC
Widex Evoke RIC is available in colours; Winter Silver, summer gold, warm beige, tan silk, titan grey, cappuccino brown, midnight black, copper brown, silver white and pear white.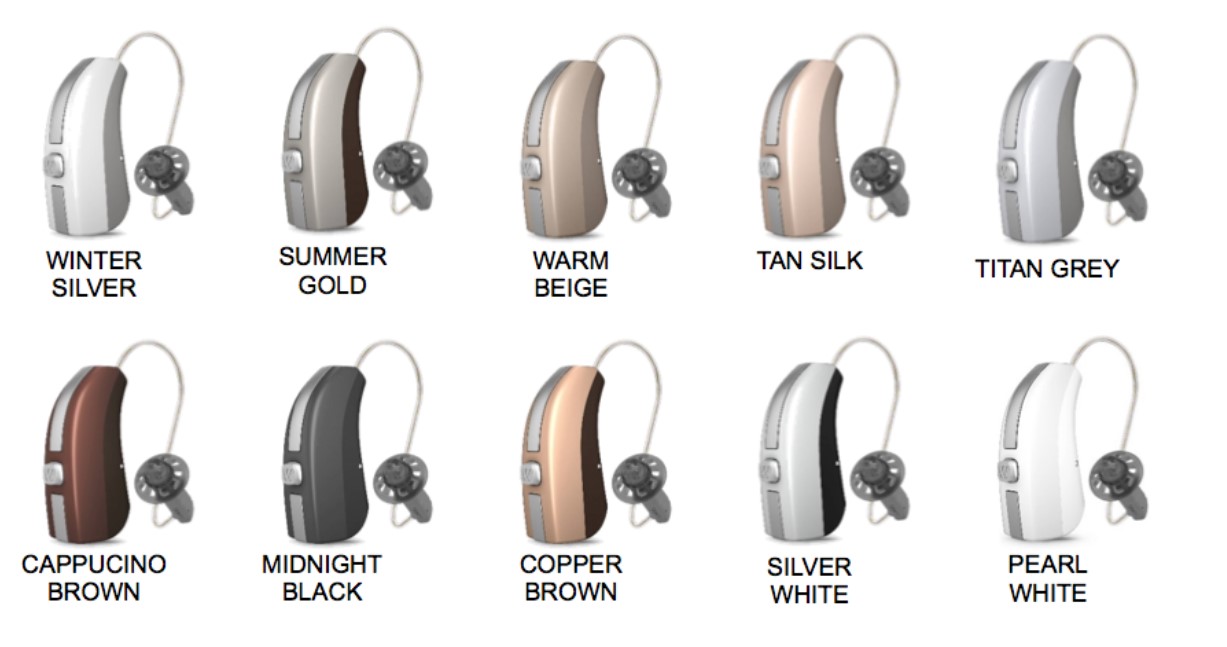 A number of accessories are available with Widex Moment: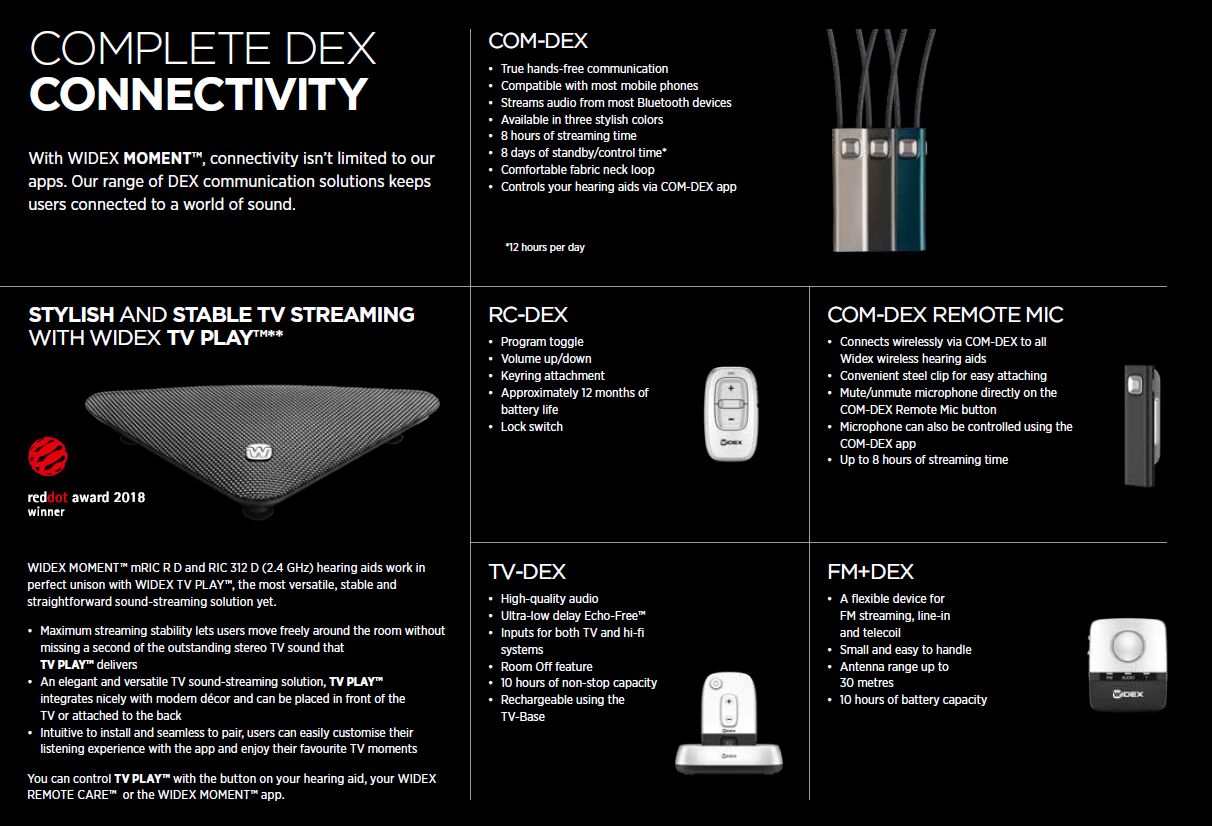 TV Play 'Plug this device into your TV/Stereo and stream the sound directly to your hearing aids.
DEX is a range of accessories that allow your hearing aids to communicate to mobile phones and other audio devices.
COM-DEX ' A device that connects to most mobile phones and Bluetooth devices and allows for audio streaming.
RC-DEX ' A Remote Mic – Stream clear sound from up to 25 metres away.
UNI-DEX – This device streams audio to your hearing aids – not just from mobiles, but any device with a mini-jack output.
CALL- DEX -A small device that plugs into your mobile phone that allows streaming conversations directly to your hearing aids.
RC-DEX – Mini Remote control for volume and program change
TV-DEX – Stream TV to your hearing aids via the TV-DEX
PHONE DEX 2 -Telephone with answering machine that streams directly into all wireless hearing aids
FM DEX ' This has the same functionality as the COM -DEX and allows for FM streaming