Description
ReSound KEY Hearing Aids
About ReSound
ReSound are part of the GN Group and was established in 1943, with a history in audio engineering dating back to 1869. ReSound is considered a pioneer in the hearing aid industry, with a worldwide presence in over 80 countries. Their headquarters are in Denmark.
ReSound developed the first Made for Apple hearing aid with direct stereo sound streaming. They were also pioneers in active noise-cancelling technology.
ReSound KEY Hearing Aids
ReSound Key was released in early 2021 and is available in all hearing aid styles. ReSound Key is positioned in the essentials (budget) category and therefore sits below Resound One and Quattro from a technology standpoint. Essentials does not mean it is less robust or reliable than the Quattro or One; it means the technology inside the hearing aid could be more advanced. Resound Key should be on your shortlist if you have a budget of less than £2000 for your hearing devices.
Headlines 
Clear sound and premium audiological features
A complete range of hearing aids in the essentials category
Rechargeable version (KEY 4 only). Up to 30 hours on one charge
Direct audio streaming from iOS and Android devices
Remote Hearing Care
Resound KEY Technology
Resound Key continues with Resound 'Organic Hearing Philosophy', which aims to create a natural hearing experience with features of Natural Directionality II and Synchronised soft switching.
Resound Key is available in three technology levels: Key 2, Key 3 and the top of the range Key 4
Natural Directionality uses a  fitting strategy where one ear (hearing aid) is always in directional mode, and one ear is always in an omnidirectional way. The user's brain creates a unified binaural image based on which ear receives the signal of interest. This allows users to stay aware of background noises and increases the ease of listening.
Soft Switching Smoothly switches the hearing aid between omni and directional modes depending on the sound environment.
DFS Ultra II – is an advanced feedback system which prevents the hearing aid from whistling – available on all models.
Resound KEY Chargers

ReSound Key Colours RIC, BTE and in-the-ear models
The Resound Key 4 Rechargeable version comes with the Desktop Charger. A Premium charger with a built-in battery for charging on the go is available.
Colours available for RIC and BTE styles are Sterling Grey, Black, Beige, Medium Blonde and Dark Brown.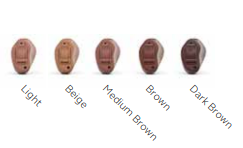 Colours Available for CIC, ITC and ITE styles are Light, Beige, Medium Brown, Brown and Dark Brown.
Resound Key Models

Resound KEY RIE 61 – Rechargeable, push button
Resound KEY RIE 61 312 – uses a 312 battery and has a push button
Resound KEY RIE 62 13 uses a long-lasting 13 battery which is more extensive; therefore, the device is slightly larger than the 312 – push button.
Resound BTE 67 312 –  uses a 312 battery and has a push button – thin tubing or standard tubing.
Resound BTE 77 13 –  uses a long-lasting 13 battery, push button-thin tubing or standard tubing.
Resound BTE 88 13 – A higher power hearing aid for more severe hearing losses, push button – thin tubing or standard tubing
Resound SP BTE 98 – Resound's most potent hearing aid using a large 675 battery. Push button, Standard tubing only.
ReSound KEY APP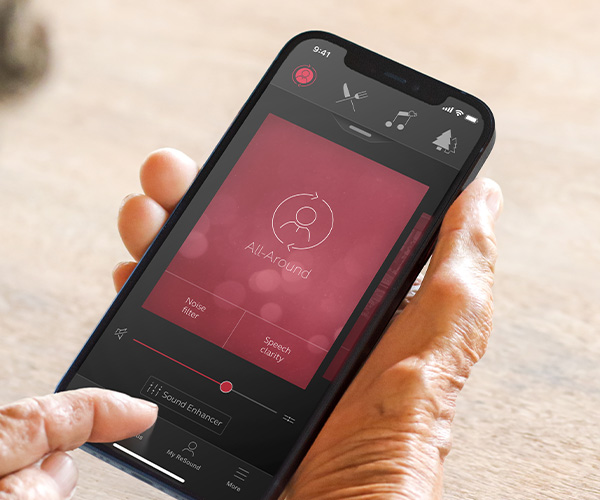 Resound ONE Smart 3D App
For those who like discreet and easy control of their aids at their fingertips, the ReSound Smart 3D App can be downloaded to many smartphones and is compatible with the Bluetooth wireless range of products. Additionally, if your smartphone operates on iOS (Apple) or Android version 10 (with Bluetooth 5.0), you can direct stream voice calls, music and sound from your device. For those who have the App and want direct streaming from their smartphone – this can be achieved, even without an iOS or Android 10 device, by using the ReSound PhoneClip+ wireless accessory.
Smartphone & App Compatibility
Apple iOS: Resound Key 3 and 4 will stream from most devices and connect to an Apple Watch. iOS 12 or later is recommended.
Android devices: Streaming requires a minimum of Android 10.
Resound Wireless Accessories
ReSound Key Accessories
ReSound have a range of wireless accessories to expand and improve your hearing experience. They are compatible with most ReSound aids. All of them are effective and simple to set up and use.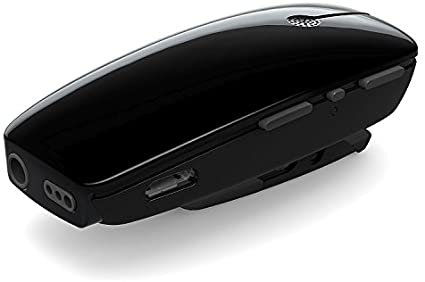 ReSound Multi Mic is a small microphone that allows you to hear up to 25 meters away. The microphone can be worn by the person you want to hear, or the microphone can be placed on the table in a group of people. The sound is streamed direct to the hearing aids, and you will hear well even in heavy background noise. The Multi Mic also connects to loop and FM systems (FM receiver required) and has an input socket for streaming audio from any device with a headphones output.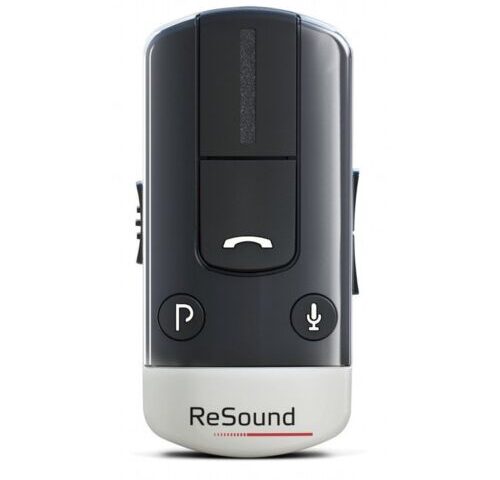 ReSound Phone Clip lets you stream calls and music directly to your hearing aids from any Bluetooth-enabled phone. This provides better audibility of phone calls even in noisy environments. Effectively, the Phone Clip gives you high-quality, hands-free calls.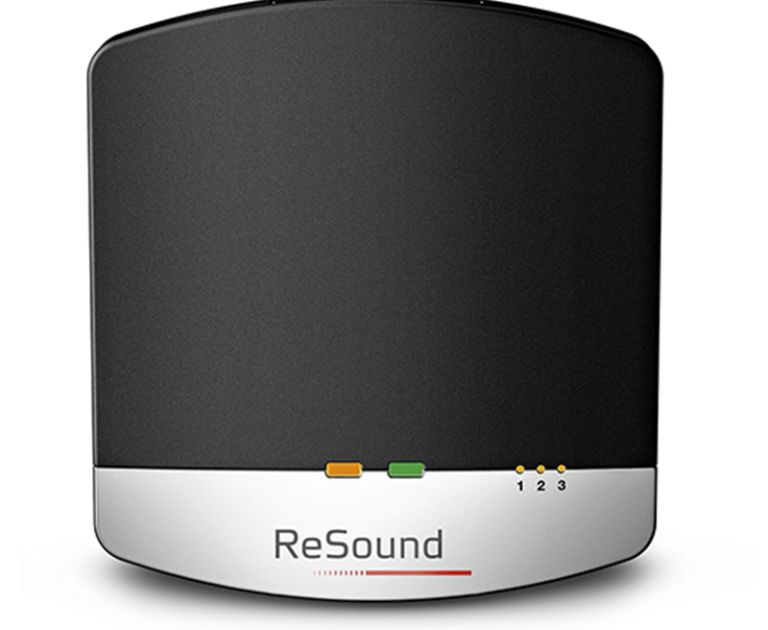 ReSound TV Streamer 2 streams stereo sound directly from your TV, computer, tablet, radio, or stereo system to your hearing aids.  Effectively, this accessory transforms your hearing aids into wireless headphones – giving you independent volume adjustment and clear sound up to 7 meters away.   The ReSound TV Streamer 2 allows your friends and family to listen at their comfortable volume – while you stream sound to your aids at your preferred level.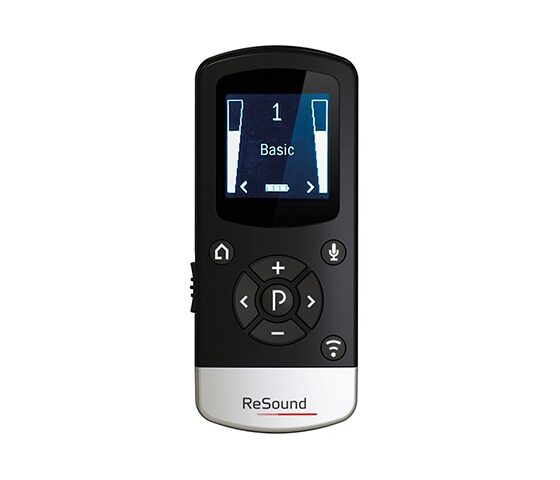 For those without the ReSound Smartphone App, a separate ReSound Remote Control allows you to adjust the volume of your aids, switch programs and mute the aids. The control can connect the aids to the ReSound Multi Mic and the ReSound TV Streamer 2 and adjust the sound when streaming. Remote controls are favoured by hearing aid users who find using the button controls on their aids fiddly and wish to make adjustments discreetly.