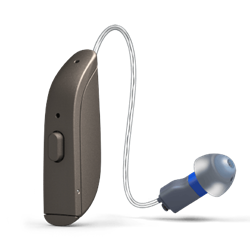 ONE RIE 61
Receiver-in-Canal (RIC)
Size 312 battery
iOS and Android streaming
Receiver power levels LP,MP,HP and UP
M&RIE Compatible
From £1015.75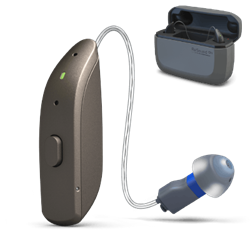 ONE Rechargeable RIE 61
Receiver-in-Canal (RIC)
Premium or Standard Charger
iOS and Android streaming
Receiver power levels LP,MP,HP and UP
M&RIE Compatible
From £1058.35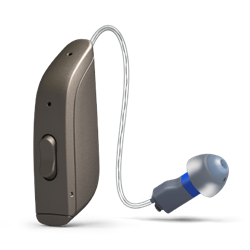 ONE RIE 62
Receiver-in-Canal (RIC)
Size 13 battery
iOS and Android streaming
Telecoil
Receiver power levels LP,MP,HP and UP
M&RIE Compatible
From £1015.75
ReSound Quattro
Resound Quattro was released in 2018 and introduced Resound first lithium-ion rechargeable hearing aid.
ReSound Quattro is available in styles; including a wireless direct streaming CIC model.
3 Technology levels are available 5, 7 and the top of the range 9
starling gray, anthracite, black, beige, light blonde, medium blonde, dark brown, pearl white, silver, gloss anthracite, gloss black, gloss medium blonde, monza red, ocean blue, forest, desert and ocean.
Key features
Binaural Directionality III – The hearing aids and microphones continuously exchange information and adjust the directionality of the hearing aids. This means you can focus on the sounds that you are important to you.
Spatial Sense –  Replaces sounds that are disrupted due to hearing aid placement behind the ear and the effects of compression.
Binaural Environmental Optimizer II – the hearing aids  work together to analyse the sound landscape you are in. The hearing aids then automatically adjusts the features and to deliver the best listening experience for you.
Noise Tracker II – Resound latest noise reduction software.
Resound Assist – Resound Assist will allow your provider to adjust your hearing aids remotely.

Resound Quattro Custom colours, light, beige, medium, dark, espresso, clear, blue (shell only) and red (shell only)
Enzo-Q is ReSound newest Premium-Plus hearing aid for severe-to-profound hearing loss. Enzo Q is a complete hearing solution that provides high-quality sound from any direction, plenty of volume with no feedback, and connectivity to virtually any audio source. Combined with remote fine-tuning and remote support, the result is a more powerful, personalized hearing experience.
ReSound Enzo-Q has three technology levels 5-Q, 7-Q and 9-Q the top of the range model.
Key Features
Direct audio streaming from iOS and Android devices
Binaural Directionality III
Spatial Sense
 Binaural Directionality
Natural Directionality II
Music ModeColours available; sterling, grey, silver, pearl white, anthracite, black, beige, light blonde, medium blonde, dark brown, glossy black, forest, desert and ocean.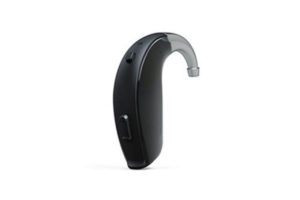 ReSound Enzo-Q BTE 88
Behind the Ear BTE
Battery size: 13
Direct Audio Streaming
Binaural Directionality III
Music Mode
Telecoil and DAI
Service Lite Available
Remote Care
From £1015.75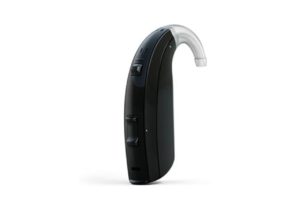 ReSound Enzo-Q BTE 98
Behind the Ear BTE
Battery size: 675
Direct Audio Streaming
Binaural Directionality III
Music Mode
Telecoil and DAI
Service Lite Available
Remote Care
From £1015.75